Air Quality Laboratories, Inc.

ANALYTICAL SERVICES
The methods referenced by AQL are endorsed by regulatory agencies and standards setting organizations including; Compressed Gas Association (CGA), National Fire Protection Association (NFPA), Occupational Safety and Health Administration (OSHA).
COMPLIANCE WITH:
CGA/ANSI G-7.1-2018 (COMMODITY SPECIFICATION FOR AIR)
NFPA 1989, 2019 (STANDARD ON BREATHING AIR QUALITY FOR EMERGENCY SERVICES RESPIRATORY PROTECTION)
NFPA 1500, 2018 (FIRE DEPT. OCCUPATIONAL SAFETY & HEALTH PROGRAM)
OSHA 1910.134, 2011 (RESPIRATORY PROTECTION)
GRADE D, GRADE E & NFPA 1989 AIR QUALITY SPECIFICATIONS
Chick here for a detailed listing of Breathing Air Quality Limiting Characteristics.
PRICING FOR CERTIFIED BREATHING AIR TESTING
HIGH PRESSURE SYSTEMS
$370 QUARTERLY PROGRAM (annual program includes 4 tests)

$220 SEMI-ANNUAL PROGRAM (annual program includes 2 tests)

$115 ANNUAL PROGRAM (annual program includes 1 test)
MEDIUM AND LOW PRESSURE SYSTEMS
$380 QUARTERLY PROGRAM (annual program includes 4 tests)

$230 SEMI-ANNUAL PROGRAM (annual program includes 2 tests)

$130 ANNUAL PROGRAM (annual program includes 1 test)
$305 - Price for Quarterly Program if you own a sampling kit (applies to any pressure system) These prices include all tests required for Grade E specifications AND rental of the AQL TEST KIT for collection of your compressed air source. NO initial capital expenditure is required to buy the sample collection kit, however, the kit is available for purchase. Purchasing and having the kit on hand may be desirable if; you require immediate sampling, you sample multiple locations throughout a given month, or you sample at a frequency greater than quarterly. In these situations it is more economical to purchase the sampling kit. For must clients, however, who have established a routine monitoring program of quarterly or less frequent it is more cost effective to use the AQL rental kit. If you already own another labís sampling kit, contact AQL to discuss conversion options. It may be possible to convert the kit for use with the technically advanced AQL gastight sampling syringe system. This will allow you to take advantage of the superior AQL collection system and lower AQL analytical testing fees.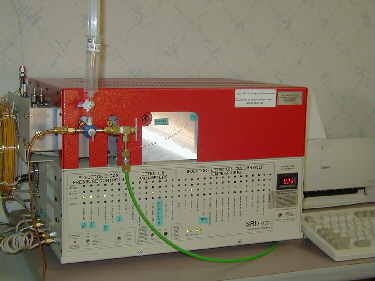 The methods routinely performed by AQL for compliance with these standards and regulations are precise laboratory methods, no detector tubes are used. For a review of these methods click here.
The IH methods used by AQL are National Institute of Occupational Safety and Health (NIOSH) or OSHA approved and are referenced in the NIOSH Manual of Analytical Methods or the OSHA Analytical Methods Manual. All analyses are performed by AQL or an accredited (AIHA or A2LA) laboratory. AQL has sampling pumps and sampling media available for the collection of samples for particulate, inorganic and organic chemical hazard constituents. Assistance is provided to sample collection personnel to ensure proper sampling volume, flow rate, and sample time for the appropriate analytical method. Call AQL to discuss your next Industrial Hygiene sampling project.
Please sign our guestbook and contact us by E-Mail with any questions about AQL



Copyright © 2021 Air Quality Laboratories, Inc. All rights reserved.
8448
(630) 830-4018