Air Quality Laboratories, Inc.

FIRE DEPARTMENT SERVICES
BREATHING AIR TESTING - COMPRESSED
Firefighters involved with interior structural firefighting rely on the air in their SCBA as their life line due to the unknown and Immediately Dangerous to Life or Health (IDLH) atmosphere they work in. For this reason both OSHA and NFPA have imposed special respiratory and operational requirements for interior structural firefighting. In addition to specific Respiratory Protection Program requirements the quality of the breathing air in the SCBA must meet at least Grade D (Grade E if also used for SCUBA) criteria. The required characteristics that should be monitored, per OSHA 1910.134 and NFPA 1989, on a quarterly basis are:
GRADE D, GRADE E & NFPA 1989 AIR QUALITY SPECIFICATIONS
Chick here for a detailed listing of Breathing Air Quality Limiting Characteristics and specific Respiratory Protection Program requirements.
Because of the health and safety importance of the breathing air analyses all work is performed by a Certified Safety Professional (CSP) and analytical results are available 24 to 72 hours following sample receipt at the laboratory. After the review and approval of the analytical data, if it is determined that any tested characteristic exceeds the appropriate Breathing Air Standard the client or data user is immediately notified. If all characteristics meet the appropriate standard the Analytical Report and Certificate of Compliance is sent to the client.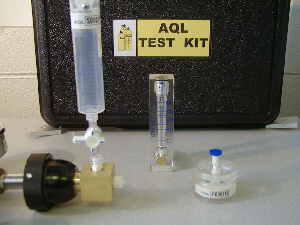 Compressed breathing air sample collection is a critical aspect and relates to the data quality produced in the laboratory. Sensitive laboratory instrumentation cannot reconstitute the integrity of a sample improperly collected. AQL has developed the AQL TEST KIT as an easy and economical means of collecting samples from a compressed breathing air source that meets the requirements of CGA/ANSI G-7.1-2018.
Contact AQL to start your Breathing Air Testing Program today.





RESPIRATORY PROTECTION PROGRAM
A written Respiratory Protection Program (RPP) that addresses all aspects of the Fire Departments respiratory procedures is required by OSHA and NFPA. In addition to addressing Breathing Air Quality requirements the RPP documents policy and procedures for such topics as:
SELECTION OF RESPIRATORS

MEDICAL EVALUATIONS

FIT TESTING PROCEDURES (for Frequently Asked Questions on Fit Testing click here)

PROPER USE OF SCBA

SCBA WRITTEN STANDARD OPERATING PROCEDURES

TRAINING

SCBA IN SERVICE INSPECTION

MAINTENANCE

PROGRAM EVALUATION

RECORD KEEPING
For more details on Fire Department RPP requirements click here.
With the expertise of a Certified Safety Professional (CSP), AQL can assist you with the evaluation or development of the required written Respiratory Protection Program and SCBA SOPs. For additional SCBA SOP information click here. AQL will custom write the program and procedures tailored to the department's equipment and practices.
PRICING FOR FIRE DEPARTMENT SERVICES
COMPRESSED BREATHING AIR TESTING:
$370 QUARTERLY PROGRAM (annual program includes 4 tests)

$220 SEMI-ANNUAL PROGRAM (annual program includes 2 tests)

$115 ANNUAL PROGRAM (annual program includes 1 test)
$305 - Price for Quarterly Program if you own a sampling kit These prices include all tests required for Grade E or NPFA 1989 specifications AND rental of the AQL TEST KIT for collection of your compressed air source. NO initial capital expenditure is required to buy the sample collection kit, however, the kit is available for purchase. Purchasing and having the kit on hand may be desirable if; you require immediate sampling, you sample multiple locations throughout a given month, or you sample at a frequency greater than quarterly. In these situations it is more economical to purchase the sampling kit. For must clients, however, who have established a routine monitoring program of quarterly or less frequent it is more cost effective to use the AQL rental kit. If you already own another labís sampling kit, contact AQL to discuss conversion options. It may be possible to convert the kit for use with the technically advanced AQL gastight sampling syringe system. This will allow you to take advantage of the superior AQL collection system and lower AQL analytical testing fees.
CUSTOM WRITTEN RESPIRATORY PROTECTION PROGRAM:
CUSTOM WRITTEN SCBA SOPs:
Call for Quotation

Selection / Use

Training

Maintenance
SCBA QUANTITATIVE FACEPIECE FIT TESTING: By Quotation
MULTIPLE PROGRAM DISCOUNTS ARE AVAILABLE
Please sign our guestbook and contact us by E-Mail with any questions about AQL



Copyright © 2021 Air Quality Laboratories, Inc. All rights reserved.
2469
(630) 830-4018